Description of the Tri-Cities
If you're like most of America, when you imagine the state of Washington, you imagine green trees stretching across the entire state and dotting the entire landscape. In reality, this is only mostly true on the west side of the Cascade Mountain range. Once you cross the Cascades into the Eastern part of Washington, the trees gradually disappear and give way to rolling hills and fields of crops as far as you can see.
Not many people who move to the Tri-Cities had any idea it existed before they arrived, but most of them fall in love once they get here.
What are the "Tri-Cities" Washington?
Spoiler alert – it's actually four cities.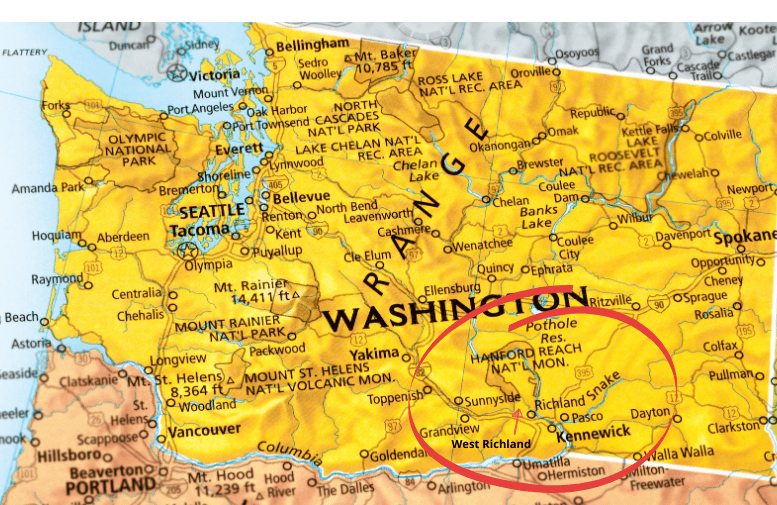 Made up of Kennewick, Pasco, Richland, and West Richland, the Tri-Cities is a fast growing community near the border of Washington and Oregon and sits alongside the beautiful Columbia, Snake, and Yakima Rivers.
Living in Kennewick, Washington
The largest of the Tri-Cities, Kennewick has a population of 82,493 (2018) and boasts beautiful neighborhoods, outstanding schools, lots of shopping, and plenty of recreation options.
In the heart of Kennewick you'll find the Toyota Center, an entertainment hub that not only hosts our hockey team, the Tri-Cities Americans, but doubles as a venue for comedians, musicals, and bands. Throughout Kennewick you'll also find 27 well maintained parks, three golf courses, and the city's beloved Carousel of Dreams.
Living in Pasco, Washington
Pasco has seen an explosion of growth in the last decade, with a population of 74,778 as of 2018. While known for its rich agricultural land, Pasco has become a popular place to move for families and individuals alike.
Pasco is filled with gorgeous parks, golf courses, soccer fields, and various outdoor recreation options. Alongside the Columbia River you'll find Pasco's most popular paved running and biking trail with sweeping views of the river and trees to provide shade.
Living in Richland, Washington
Richland has river trails, marinas, restaurants, parks, and golf courses galore. It stands as the area's medical hub with the campus of Kadlec Regional Medical Center, and is also home to Washington State University's branch campus in the Tri-Cities. Although it's population is smaller at 57,303 (2018), Richland is a popular home for the thousands of Hanford workers in the area.
Living in West Richland, Washington
The smallest of the Tri-Cities with a population of 14,928 (2018), West Richland is filled with farms, parks, a golf course, and wineries. Nestled along the Yakima River, it provides plenty of opportunities for outdoor enthusiasts and nature-lovers alike.
Recreation in the Tri-Cities, Washington
As you learned above, all of the Tri-Cities is known for its well-maintained parks, golf-courses, trails, and outdoor recreation in general.
If exercise is your thing, Tri-Cities is heavenly. With 300 days of sunshine, you'll be able to enjoy running, biking, tennis, pickleball, and more for the majority of the year. You'll find plenty of races, triathlons, biking clubs, pickleball tournaments and hiking groups to keep you motivated and fit.
At Powell Real Estate Group we are filled with an inordinate amount of athletes. We love being able to sponsor local races and triathlons put on by Three Rivers Road Runners, a local club that offers free training plans and even a half-marathon training group each year. We're also fortunate to be able to sponsor local pickleball tournaments held by Club 509 Pickleball and the Columbia Basic Classic (Hosted by Tyson McGuffin).
Boaters and fishers rejoice, the Tri-Cities is the place for you! With three rivers in your backyard, there are plenty of opportunities to fish and play on the water. Not many Saturdays go by without seeing a plethora of boats out on the water, enjoying the sunshine and hoping for a big catch. The biggest event of the summer is the Tri-Cities Water Follies, an event that brings thousands of visitors each year to watch the hydroplane races and air show.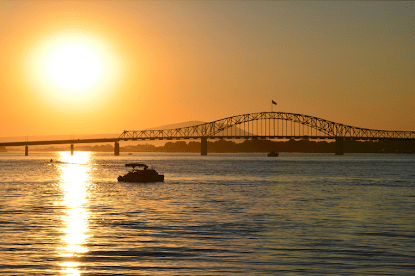 Along with outdoor recreation, the Tri-Cities has plenty to do indoors as well. Kennewick, Pasco, and Richland each have newer and locally owned Fairchild Cinemas, with the Kennewick and Richland Theaters offering reclining seats and serving alcoholic beverages. Wineries dot the landscape and attract wine-lovers across the country to enjoy what the mid-columbia has to offer.
Jobs in Tri-Cities Washington
Even amid the tumultuous times we live in, there are jobs to be found in Tri-Cities, Washington. Home to the VIT plant and Hanford tank farms, there are hundreds of engineering jobs, scientist jobs, tech specialist jobs, construction jobs, skilled trades, and more that are involved in the massive project of cleaning up nuclear waste left behind from the Cold War. Bechtel National, Mission Support Alliance, Washington River Protection Solutions, and CH2MHill are just a few of the major contractors you'll find hiring in our area.
You'll also find powerhouse employers such as PNNL which attracts top tier scientists and chemical engineers looking to close the gap in the nuclear fuel cycle.
And farming – don't forget about farming. Along with a host of very successful local farms you'll find major corporations such as AgriNorthwest hiring in the Tri-Cities.
Healthcare is becoming more and more advanced in the Tri-Cities with three local hospitals and Kadlec Regional Medical Center at the center. Doctors, ARPN's, physician's assistant, and registered nurse jobs are plentiful in the area.
Schools in Tri-Cities Washington
Higher Education in Tri-Cities
As mentioned above, Richland is home to Washington State University's branch campus, WSU-Tri-Cities. Popular programs at WSU-Tri-Cities include their nursing degrees, business degrees, education degrees, and their new wine science program for those interested in viticulture and enology.
You'll also find Columbia Basin College located in Pasco, a local community college well-known for its nursing and dental hygiene programs and now offering several Bachelor degrees.
Many Tri-Citians have been able to further their education and advance their careers due to the education they received in their own city at CBC and WSU-Tri-Cities.
Elementary and Secondary Education in Tri-Cities
The Tri-Cities has three school districts: Kennewick School District, Richland School District, and Pasco School District. Within those three districts there are seven high schools with competitive academic and athletic programs, as well as many middle schools and elementary schools to fit the needs of Tri-Cities children.
Buying a Home in Tri-Cities Washington
Low inventory has created a strong seller's market and also a shortage of home options for buyers in the Tri-Cities. Between 2011 and 2015, we had a healthy average of 1,223 homes on the market. Since 2015, we've had an average of 588 homes on the market, less than half the inventory compared to the previous 5 years. Low supply and high demand has also increased the average price from a low near $200,000 in 2011 to the current high of $356,800. That's an average equity increase of $15,680 per year over the past decade. Through 2020 and all the challenges of COVID-19, the local market has continued to gain momentum with an average of only 431 homes available and 24 days on market. It's common to see multiple offers and bids over asking price in all price ranges, but this is especially true for homes under $300,000.
Let us be your Tri-Cities Guide
At Powell Real Estate Group, every member of the team has lived here for at least 10 years, some for nearly 30 years. We know the area, we know the schools and we know the homes. If you're looking for extra tips or advice on buying a home in the Tri-Cities, contact us today at ‪(509) 563-2224.