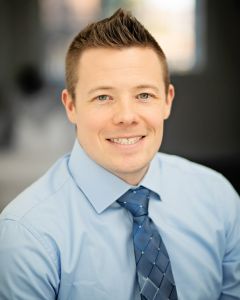 After receiving a MBA early in 2011, Chris moved to Kennewick, Washington and began his career with Windermere Real Estate.  After 3 1/2 years of successful real estate sales, he became a designated broker and formed Powell Real Estate Group, Inc.  Building on his education and business experience, Chris has developed a home marketing plan that has proven effective in the Tri-Cities market.  Whether you are buying or selling, Chris will use his education and history of success to help you achieve your real estate goals.
Education
Chris graduated from BYU in 2008 with a Bachelor's Degree in Business Management emphasizing in Entrepreneurship. BYU's entrepreneurship program was ranked in the top 10 programs at the time.  Shortly after graduating, he moved to Las Vegas, Nevada where his wife was attending Physical Therapy school. Chris worked full-time selling insurance for State Farm and attended UNLV's MBA program in the evenings. He and a team of classmates entered 2 state-wide business plan competitions and won first place in both.
"I have bought and sold numerous properties and have had the opportunity to work with many realtors; Chris Powell is head and shoulders above the rest. For an agent that will help you every step of the way and follow through on their commitments, look no further. Thank you Chris and I wish you and your team all the best!"
The Ivan's
We loved working with Chris to purchase our new home. He was very helpful, and not pushy in any way. He really let us take things at our own pace and made the entire process as comfortable as possible. We knew absolutely nothing about buying a home and he offered great advice and recommendations.
The Rawlings
Powell REG is the only way to go! We recently bought a new home that was contingent on selling our then-current home. It is a stressful process by nature, but Chris Powell was so knowledgeable and involved in the details that it was virtually painless. He knew exactly what price point to list our house so that we had multiple viewings and multiple offers to choose from. He got us the price we needed on our new home. Whether you're buying or selling, you can trust Chris to make it happen!
The Edler's
"Chris was very responsive and professional throughout the entire process of buying our home. He offered good advice for each step and made us feel comfortable and informed even though we were moving from another state and buying our first home."
The Kirk's
"Chris will go above and beyond for the benefit of his client! He will give you 101% percent from start to finish! Thank you for all your help ( buying and selling) our house! He helped us sell our house in a very professional and effecient way He also helped up buying our second home and was very supportive from the day we made offer all the way until we moved in to our new home! He made sure everything we need was asnwered in a timely manner! Thank you Chris! Buying and Selling our home is much easier this time!"
The Grimmer's
"Chris did an amazing job for us! He sold our house and helped us in the purchase of a new build. Building a house was way more work than I ever imagined. He helped us over the entire 6 month process. This was my 5th real estate transaction and I have come to learn that responsiveness is what I value the most in my realtor. Chris was extremely fast to get back to us with answers to our questions. I have had people in the past take days to respond but Chris was always available through calls, emails, and text messages. I couldn't recommend him enough. Whether your buying or selling I would trust Chris to give honest advice that will help your transaction be a success."
The Robison's
"Chris went out of his way to help us find a home in a very short amount of time. We moved here from out of state and had a limited time frame to find a home, and he worked so hard through those long days with us. If there was ever a question about the area that he didn't know, he would get right back with us the next day with the information. He listened well to our preferences and did not try to sell us a home over our price range. He is very professional, hard working and enjoyable to be around. We completely trust Chris."
The Smith's
"I extremely highly recommend Chris Powell. We had a very narrow set of specifications and a very limited budget with which to buy my parents a home. Not only was Chris able to find a house on the market that matched our exact needs, but he got us in to see the house as it immediately hit the market, gave us good recommendations concerning our offer and negotiation – helping us to beat out a competing offer in the nick of time. He also was able to give us a very fair and honest appraisal of the value of our current home, which we'd had trouble getting sold, which helped to lead us down a more correct path for our second home. Use Chris!"
The Strawn's
"I wholeheartedly endorse Chris Powell as a real estate agent. He made himself available night and day during our home purchase dealings, which included while he was out of state during the Christmas season. He was able to keep us very well informed regarding each step of the home buying process and kept excellent communication as we went forward. He found us an excellent home at a very good price. We have dealt with many real estate agents over the course of our marriage (40 years); so far Chris has given us our best home buying experience over that time. My wife and I are extremely happy that Chris was our agent and plan to use him again if we decide to buy more property in the future."
The Hernandez's