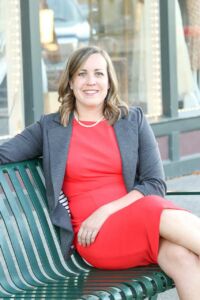 After growing up in Northern California, Lisa moved to Kennewick, Washington with her family in 2005. Shortly thereafter, she met her husband and they put down roots in Kennewick. They love being able to raise their three boys in such a thriving community with plenty of family nearby.
Lisa has always been passionate about education and lifelong learning. She graduated from Washington State University with a Bachelor's degree in nursing while her first son was only two years old. After working for a year at Kennewick General Hospital (now Trios Health) as an RN, she gave birth to her second son and decided it was time to stay home and focus on her family.
Lisa discovered a knack for marketing and was hired as Marketing Director for Powell Real Estate Group. Her tasks include managing social media, SEO, and overall company marketing strategies. Determined to learn as much as she could, Lisa spent a few months during this time working for The Content Factory, a digital marketing agency, where she learned marketing methods from the best of the best. In the summer of 2020, she decided to join Powell Real Estate Group as a real estate broker. 
Lisa is excited to use her knowledge and expertise in marketing, along with her ability to work under pressure that she gained as an RN, to help her clients reach their real estate goals!
Contact Info
Direct:  509-572-0897
Email:  lisa@powellreg.com